Wild Atlanta: Greenspaces & Nature Preserves of Metro Atlanta (Wind Eagle Press, 2023) is a coffee-table book pairing poems
about Atlanta's many protected urban wildspaces with
photographs by Luz Wright. Published with an "Artist Project"
grant from the Atlanta Office of Cultural Affairs.
Four-Wheeler & Two-Legged: Poems
(Southeastern Front, 1992) covers the usual poetic
obsessions— love, death, nature, travel— but also delves
deeply into the political urgencies of its time, including
covert war in Central America and the threat of
nuclear holocaust.
Crossing the Expressway: Poems from the Open Road
(Dolphins & Orchids, 2001) collects twelve years
and a hundred thousand miles of poetry
about Wing's youthful hitchhiking adventures.
The Earth Poetry chapbook series
(Wind Eagle Press, 2014-2018) consists of
four chapbooks devoted to poems for
the trees, for the animals, for the
water, and for the living planet itself.
Months ago my poem "Underfoot" was selected by Georgia's poet laureate Chelsea Rathburn for the "Poetry in the Parks" program. Dawn and I finally had a minute to take a walk through Decatur's Glenlake Park to look for it.
A few poems published online or in print . . .

"Grasshopper Man, Driving Through" in Communities, Fall 2020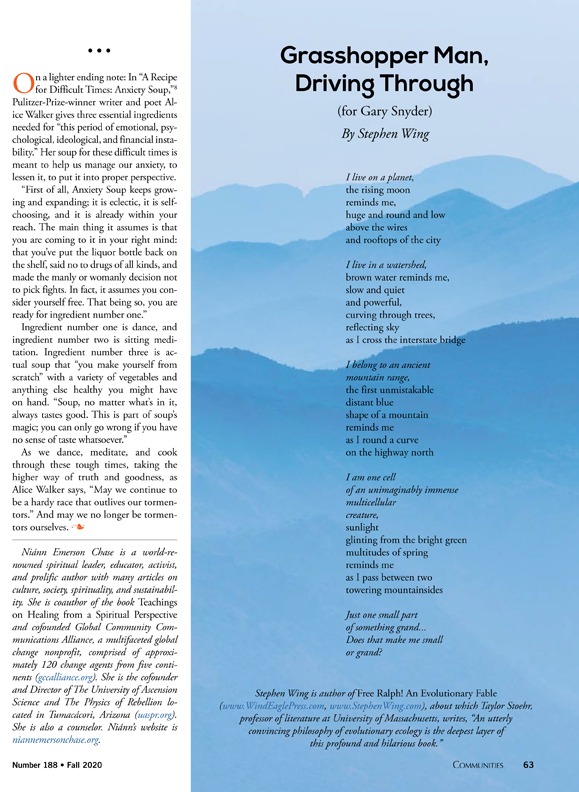 "And the Wind Fell Bleeding" in Rural Southern Voice for Peace, Jan./Feb. 1995
"Winter Circle" in Communities, Winter 2020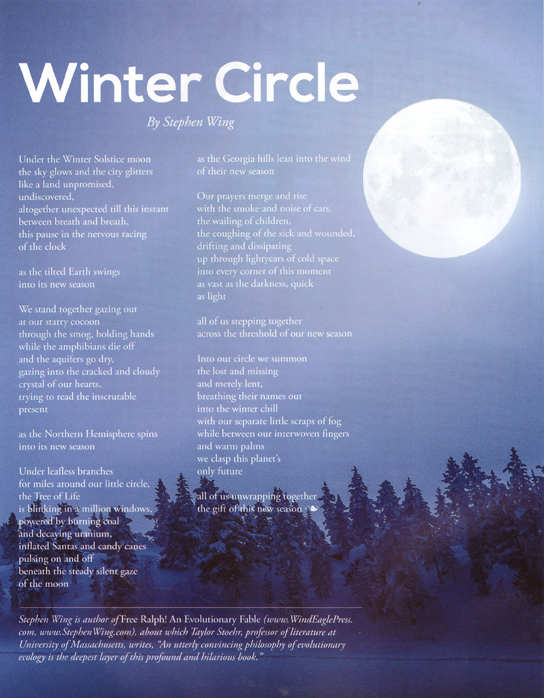 A few audio recordings . . .

"Beyond Borders" with Adrian Bernal, WRFG community radio, Atlanta, 9/23/23 (5 poems starting at 1:30)

Interviews and readings on video . . .

Manuscripts in search of a publisher: 
Kumbu's Gift, a projected trilogy of eco-comic novels, precipitated by a brush with cancer in 2006. It's the improbable tale of a circus chimp and the humans who campaign to rescue him from captivity. Meanwhile, back in Africa, his wild relatives rescue a hapless hunter lost in the jungle . . . and the long-separated evolutionary paths of humans and chimps hilariously re-converge. (Books 1 and 2 now complete.)
Washed in the Hurricane, a sampling of "Earth Poetry" – poems not about nature but about our relationship with nature as participants in a living world, with an introductory essay tracing the art of poetry to its Paleolithic roots.
Honk If You're Awake!, Wing's collected political poetry, with an introductory essay on the value of poets engaging with the struggles and aspirations of ordinary people's lives.